Flow Visualisation in the Food Industry
Health authorities have given the standards of Good Manufacturing Practice (GMP), which have to be considered seriously. Our FlowMarker® helps to check whether the requirements are met.
The video beneath shows the FlowMarker® used for verifying a packing machine.
Another important application is the optimization of refrigeration equipment. A uniform and effective cooling process bears large potential for energy savings. With our FlowMarker® and its several accessories (thermally dependent) air flow can be visualized in order to check whether outlet air is exhausted at the necessary position or cooled air is conducted to the outer area due to undue disturbing effects.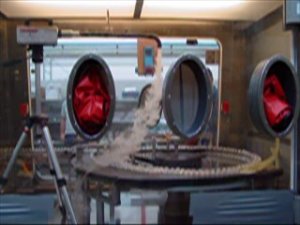 Project inquiry
Do you have questions about our products? Then simply fill out the form. We will contact you as soon as possible after receiving your data.